There's a reboot coming your way — are you ready for it?
For many of us 20-somethings (and older), growing up,  the TGIF lineup on ABC was an essential part of our weekend. This included Sabrina The Teenage Witch, the short lived Teen Angel and, of course, Boy Meets World. For this writer, tuning in every weekend for the latest adventures of Cory Matthews, Shawn Hunter and Topanga Lawrence was a necessity in my household. The show had it all, ranging from achingly relevant to hilariously impractical.
It's a testament to how beloved the show was, that news of a sequel was so well-received.  Disney Channel announced last year that Ben Savage (who played Cory Matthews) and Danielle Fishel (Topanga Lawrence) would be reprising their adolescent roles in a new show, appropriately titled Girl Meets World. The sequel will revolve around Cory and Topanga's daughter, Riley (played by Rowan Blanchard) as she faces New York City with her own BFF, Maya (played by Maria Carpenter), by her side.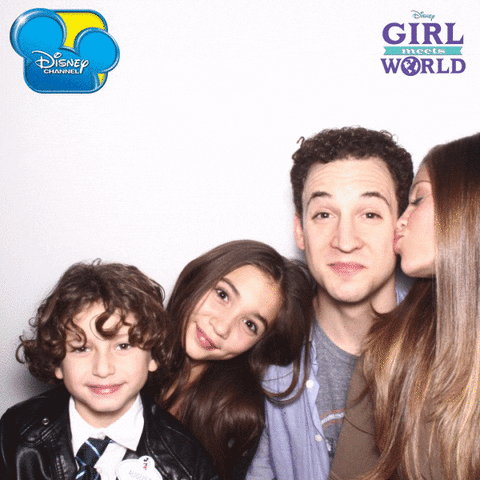 Most fans would be hesitant, even wary, towards such an announcement but those concerns were put to rest when Disney Channel announced that Boy Meets World executive producer and co-creator, Michael Jacobs, would also be returning alongside Savage and Fishel to helm the new project. While we've yet to receive an official airdate, the cast and crew have been taunting fans all year from the set — and it's only serving to increase the anticipation surrounding the upcoming show. Here at Larkable, we're definitely looking forward to Girl Meets World and we've got the top three reasons why you should be too.
---
---
1) Fan favorites from the original show are returning– at least in a guest star capacity. Ben Savage tweeted a picture from the set, which was later confirmed to be for the holiday episode, featuring Rider Strong, William Russ and Betsy Randle (who played Shawn Hunter, Alan Matthews and Amy Matthews respectively). They've also confirmed that William Daniels, who played everyone's favorite teacher, Mr. Feeny , will also make an appearance.
2) As mentioned above, Michael Jacobs will be returning as a creator and executive producer, so fans can rest assured that the show's direction is in safe hands. When fans were first puzzled as to why the new show was taking place in NYC, as opposed to Philadelphia where Cory and Topanga grew up, Jacobs pointed out that it was for the sake of continuity.
"We made it clear that the kids were going to try their luck in New York City in the finale of 'Boy Meets World,' Topanga received an internship at a New York City law firm where she still works, so the family is raising their children there."
3) Cory teaches history at Riley's school, meaning that fans of the original series will have plenty of opportunities to see Cory wising up to all of Riley and Maya's schemes and imparting the same wisdom of his (and our) favorite school teacher, Mr. Feeny.
In all, the upcoming show promises to be fantastic — and the teaser clip confirms that Cory and Topanga are the loving, amazing parents we always knew they'd be.
(featured image credit: DISNEY CHANNEL/Bob D'Amico)
From the Web