If there was ever a man who delighted in the whimsical joy and nostalgia of cinema, it would be Wes Anderson.
Known for multiple films, the director excels at layering personality and wit amidst a refined vintage homage, and Anderson never fails to imbibe his cheeky nuance with color and personality. This writer has viewed a handful of his films, and "The Grand Budapest Hotel" didn't fail to stray from the formula.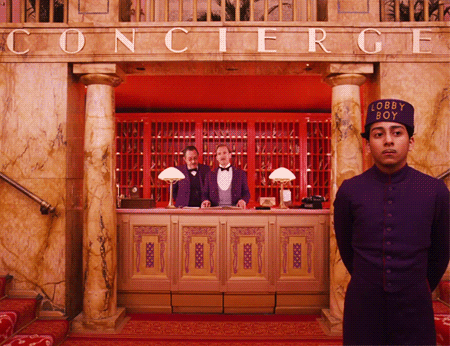 The movie opens to a cheerful, barbershop quartet backed stroll through a snow-covered graveyard. Here, a young girl sits to read her prized book, and marvels at the monument of a beloved author. Through the next few scenes, we discover, said author is in fact the man responsible for narration of the beautiful and harrowing tale of the Grand Budapest. Taken back several decades, the film resides in the illustrious narrative of a suave, tailored concierge (played by Ralph Fiennes) and his brave, young lobby boy (Tony Revolori).
What begins as a cute, simple tale of a hotel, develops into a story of love, laughter, murder, and escape.
We learn that the concierge takes his love of the hotel to every extreme : from sleeping with elderly patrons, to always smelling of sweet perfumes, all in the never ending quest of utmost servitude to Budapest guests. The Sly Saint, trained in the art of people pleasing, takes on a young orphan and unravels a scandalous affair. Knifes, cakes, guns, cops — you'll never guess what unfolds, and for that, I smile with ease.
---
---
In such an illustrious tale, my heart was warmed by the huge cast list, as well as the precise attention to detail that the quintessential  Anderson movie provides.
Tilda Swinton, Bill Murray, Owen Wilson, Jeff Goldblum, Saoirse Ronan (and many more,) played a large part in shaping a whimsical story filmed with dry humor and physical comedy verging on slapstick.  Some scenes featured stilted and jumpy frames, reminiscent of the Hollywood Golden Age,  while others utilized new-age techniques like digital tilt photography. Despite alternating styles, Budapest flowed nicely, grounded by its use of vintage colors and hues. At it's peak in popularity, the hotel is highlighted by bright and joyful colors which soon fade in brilliance, betraying the passage of time.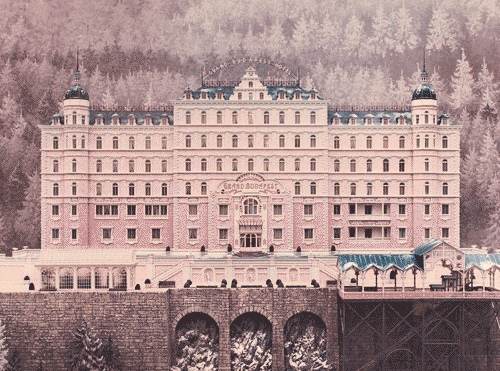 Throughout its relatively average span of one hour & forty minutes, Anderson proved again his worth as a visionary and story teller, presenting audiences with another memorable yet quirky tale.  Budapest offers a humorous narrative riddled with cliffhangers and elements of danger, but ultimately, the film beckons you to enjoy the simple and kind-heartened joys of life, and to overlook the natural tendency of humanity's wickedness.
Rating: 8/10
Catch "The Grand Budapest Hotel" at a theater near you!
(Featured header image property of 20th Century Fox)
From the Web