And check out his crazy Minnesota Accent in the new FX Fargo trailer!
We've got an indeterminate amount of time before we'll once again see Benedict Cumberbatch and Martin Freeman reunited on Baker Street, it's true.  But that doesn't mean you have to wait until the next Hobbit movie to see Freeman!  Catch our favorite hedgehog-lookalike  in the new FX "original" series (but based on that 90's cult classic from the Coen brothers) Fargo.   If you're happy to see Freeman in this FX reimagining, you can write a thank you note to his wife,  Amanda Abbington. A longtime fan of the movie and owner of a "Better Call Saul" t-shirt, Abbington basically forced Freeman into the project when she heard it was an opportunity. She gleefully told Vulture that Bob Odenkirk follows her on twitter now.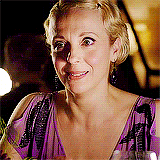 Fargo promises to be just different enough from the movie, with a new plot and marked personality shifts in characters. Basically, the series is an AU*, OOC* Fargo fanfic* which won over the Coen brothers so thoroughly that it got its own show. That's okay, we're dealing with a superbly talented cast: Freeman and Odenkirk, as well as Billy Bob Thornton, Colin Hanks, Kate Walsh, and many others. All of whom, based on the trailer, do a stellar (if not a smidge over-the-top) Minnesota accent.
Joel and Ethan Coen returned to executive produce the show and wrote three episodes. Fans of the original: if you have a problem with FX's Fargo, you know where to direct your hate mail.
Other executive producers include series writer, Noah Hawley, the exceedingly talented pilot director Adam Bernstein (who already proved his chops in 30 Rock, and Breaking Bad), Warren Littlefield and Geyer Kosinski. 

Fargo will air on FX, April 15 at 10pm/9C. Still itching for more info? Take a peek at Yahoo's "first look".
*AU = Alternate Universe
*OOC = Out Of Character
*Fanfic = Fan Fiction